There's a story Dan Mullen likes to tell about his introduction to life as a head coach in the SEC.
Mullen, then a 37-year-old still unpacking his things at Mississippi State, walked into his first meeting with the league's coaches in Destin, Florida, in the spring of 2009. Steve Spurrier, then the head coach at South Carolina, found him in the crowd, shook his hand and proceeded to drop some knowledge on the rookie head coach.
"Take a look around the room," Mullen said Spurrier told him. "Say hello and then say goodbye to everybody because we're not all going to be here next year."
The Head Ball Coach was right. Mullen was one of three first-year coaches at those meetings, having replaced Sylvester Croom in Starkville. Another, Lane Kiffin, had replaced Phillip Fulmer at Tennessee, whom the Vols had unceremoniously shown the door after 17 seasons with more than 150 wins and a national championship.

Following the 2009 season, there would be three more coaching changes. Even Urban Meyer, Mullen's former boss at Florida, took a leave of absence after being admitted to a hospital shortly after losing to Alabama in the SEC championship game.
Meyer would return to The Swamp, but he wasn't the same. The league, in fact, wasn't the same. When Nick Saban and Alabama won their first national championship together in 2009, it was the beginning of the end for a long line of SEC coaches. Saban has gone on to build a dynasty, complete with five conference titles and four national championships.
He raised the bar in such a way that almost no one could clear it. Instead, it would fall down on the competition like a guillotine, sharpened by the uniquely rabid fans of the SEC.
"It's the expectations and the fan base here of people in the Southeastern Conference that every school in the conference [wins championships]," Mullen said. "I don't think you can go anywhere around America where every fan base expects to win a championship starting off the season. Not, 'Hey, we're going to have a great year. Let's do this, let's do that.' After spending the last nine years in the SEC West, every fan base expects to go to Atlanta at the end of that season."
And sometimes, even that's not enough. After leading Florida to SEC East titles in each of his first two seasons, Jim McElwain didn't even make it through a third, in large part because of two lopsided defeats to Saban in the SEC championship game. And who replaced him in Gainesville? Mullen.
McElwain's firing was the start of a wild coaching carousel even by SEC standards. At last check -- these things are fluid, after all -- there have been 45 total coaches in the SEC from the time Saban entered the league in 2007, according to ESPN Stats & Information. That total includes 21 coaches who have been fired or resigned; nine who served as interim coaches who were not retained (a number that will rise to 10 once Tennessee hires a full-time coach to replace interim head coach Brady Hoke); three who retired; and three who left for other jobs. Eight head coaches remain.
Legends like Spurrier, Fulmer, Meyer, Gary Pinkel and Mark Richt have all moved on, either by choice or by force. The most significant change, of course, was the firing of Les Miles, who won a national championship and compiled a sterling 114-34 record at LSU. He was let go for no reason other than not being Saban, despite being the only SEC coach to have beaten Saban three times.
Even Mullen has changed places. This offseason, he took over at Florida.
They might build a statue of Mullen in Starkville one day after he turned a middling program into a perennial bowl team. But those same eight- and nine-win seasons that earned him such acclaim at Mississippi State might get him canned at Florida.
Call it the Saban Effect. McElwain wasn't alone in receiving a pink slip in the SEC. Tennessee's Butch Jones, Arkansas' Bret Bielema and Texas A&M's Kevin Sumlin were axed this year as well. The four coaches' combined record vs. Saban: 1-17.
The only current SEC coach to beat Saban at Alabama is Auburn's Gus Malzahn, who himself was on the hot seat until he broke a three-game losing streak to the Crimson Tide on Nov. 25.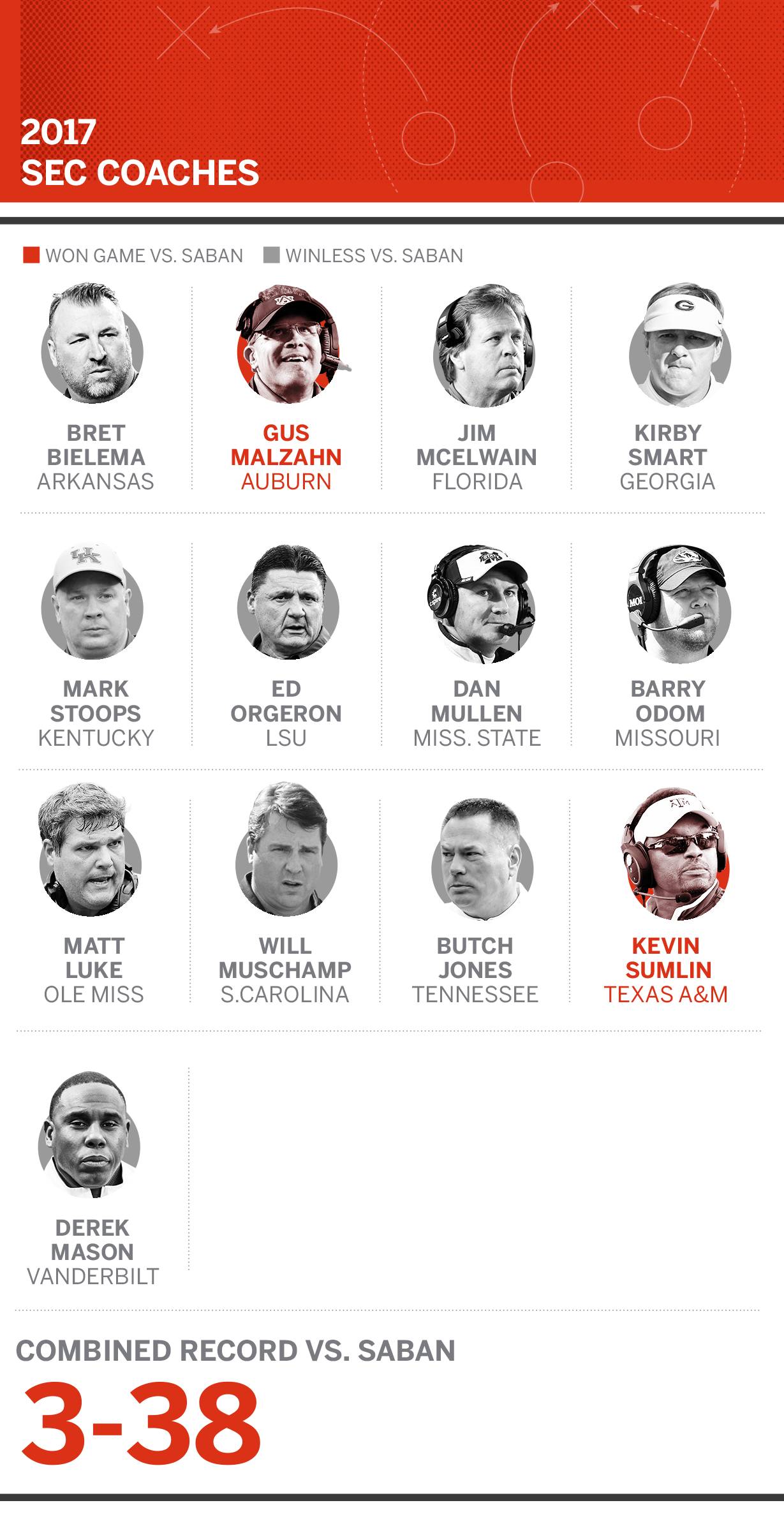 Even for old-timers like Fulmer, what Saban has done in the SEC is astonishing.
"What he's accomplished is just incredible," Fulmer said. "The consistency of his teams, how good he's been and playing for all those national championships, that's hard to do." All the attrition has certainly helped, Fulmer concedes. "The East definitely hasn't been what it was," he said.
When Fulmer said those words back in October, he was an aide to the school president at Tennessee. Since then, Jones has been fired, and after a bungled coaching search, athletic director John Currie was shown the door and replaced by Fulmer.
It's enough to make your head spin. Texas A&M just gave Jimbo Fisher an eye-popping 10-year, $75 million deal to come over from Florida State. But be warned: He's already 0-1 against his former boss, Saban, adding to an overall 0-11 record among all of Saban's old assistants.
It's almost cruel how Saban builds them up just to knock them down.
But going back to the beginning, this was something that maybe we all should have seen coming. Take it from former Auburn coach Tommy Tuberville, who coached the Tigers from 1999 to 2008.
When Tuberville had it going on the Plains, he owned Alabama, winning the Iron Bowl in six consecutive years. After Mike Shula was fired at Alabama, former Crimson Tide athletic director Mal Moore parked his car outside of Saban's home in Miami and refused to leave until the coach came back with him to Tuscaloosa.
Tuberville, who had done battle with Saban before when he was at LSU, saw the writing on the wall. He gathered his staff shortly after Saban was hired and told them, "Guys, this is getting ready to be a war in recruiting. What you've been doing, you better pick it up about 30-40 percent."
"I pretty much knew immediately that we were in for a battle," Tuberville said. "Not just Auburn but everybody."
Tuberville won the Iron Bowl in Saban's first season in 2007. But a 9-4 record turned into a 5-7 record in 2008, and he committed the cardinal sin of losing to Alabama 36-0.
With that, all momentum was lost and Tuberville resigned following the loss. He wasn't bitter. Saban and Alabama was the perfect marriage, and the perfect storm for the rest of the SEC.
"You could tell immediately that when Nick came in everything solidified," Tuberville said. "There was one guy running the show, it was Nick Saban."