Top Sports Headlines
UEFA Nations League
Talking points and insights
Santos: Ronaldo still a part of Portugal's future
Portugal head coach Fernando Santos insists Cristiano Ronaldo is still part of the team's future and is satisfied his side reached the final phase of the Nations League.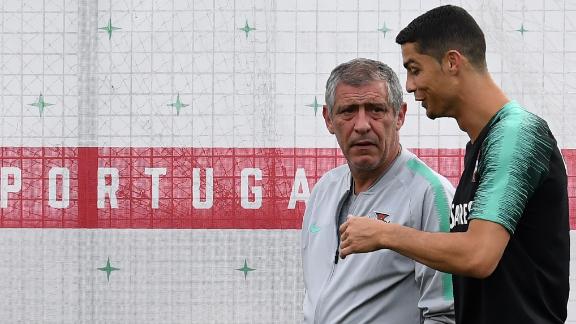 Jackson intercepts Cousins, takes it to the house
Kirk Cousins is off the mark on his pass to Laquon Treadwell, and Eddie Jackson picks it off, taking it all the way back to make it 22-6 Bears.
Jackson talks the importance of turnovers
Bears safety Eddie Jackson breaks down his pick-6 vs. the Vikings and explains why the Bears are looking to build off the victory.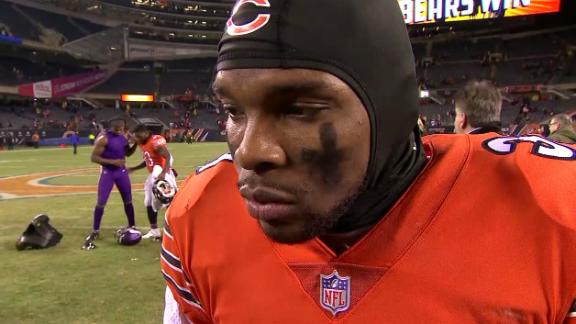 Zimmer, Cousins sum up Vikings' shortcomings in loss
Mike Zimmer and Kirk Cousins break down some of the reasons the Vikings couldn't pull things together to defeat the Bears.
Trubisky: Bears must 'stay hungry, stay humble'
Mitchell Trubisky reflects on the Bears' 25-20 win over the Vikings, and breaks down what his team has to do down the stretch of the playoff hunt.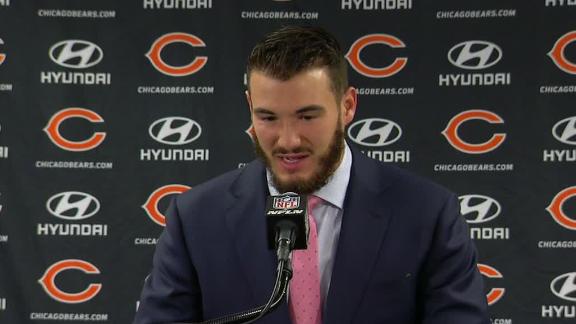 Bears' defense wreaks havoc in win over Vikings
The Bears' defense causes two sacks and three turnovers, including a pick-6, in their 25-20 win over the Vikings at Soldier Field.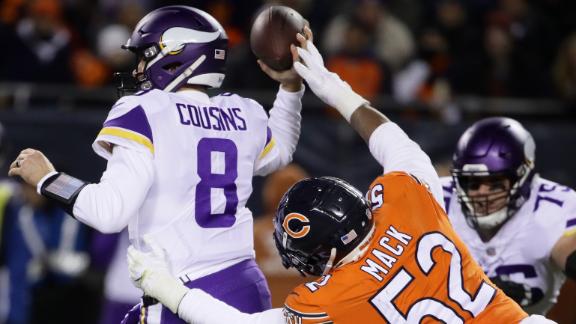 Amos caps off 1st half with INT
Kirk Cousins makes an errant throw, and Adrian Amos makes the easy interception to keep it 14-0 Bears at the break.
Miller goes low to scoop up 18-yard TD pass
Mitchell Trubisky throws to the end zone for Anthony Miller, who makes a sliding catch to make it 11-0 Bears following the 2-point conversion.
Harris skies for leaping INT
Mitchell Trubisky tries to go deep to Taylor Gabriel, but Anthony Harris times his leap perfectly for the acrobatic takeaway.
Mack strips Cook and secures recovery
Khalil Mack jars the ball free from Dalvin Cook and scoops it up to keep the Vikings off the scoreboard.
Brees tosses 4 TDs in Saints' drubbing of Eagles
Drew Brees throws for 363 yards and four touchdown passes as the Saints win their 9th straight and demolish the Eagles 48-7.
Rosen and Fitzgerald connect in loss to Raiders
Josh Rosen throws a trio of touchdowns, including two to Larry Fitzgerald in a 23-21 loss to the Raiders.
Kamara gets in on the action in 4th
Drew Brees lofts a perfect pass to Alvin Kamara on the sideline for a 37-yard touchdown to add onto the Saints' lead over the Eagles.
Lindsay drives in a 3-yard touchdown
Phillip Lindsay bounces outside and runs in a 4-yard touchdown to give the Broncos a 20-19 lead early in the fourth.
Carlson's FG wins it for Raiders
Raiders kicker Daniel Carlson puts the kick directly through the uprights giving the Raiders a 23-21 win.
Gruden says Smith fractured tibia, fibula
Jay Gruden announces that Alex Smith is done for the season after breaking in his tibia and fibula.
Zeke: Cowboys have 'good momentum' heading into Thanksgiving
Ezekiel Elliott talks about the Cowboys' 22-19 win over the Falcons and looks ahead to the division rival Washington Redskins.
Cowboys beat Falcons on last-second FG
Brett Maher's walk-off field goal gives Dallas the 22-19 win over the Atlanta Falcons.
Smith carted off following gruesome leg injury
Alex Smith gets carted off the field in a boot after suffering a serious leg injury on a sack from J.J. Watt.
Alex Collins fights his way into the end zone
Alex Collins rushes for a 7-yard touchdown to give the Ravens a 7-0 lead over the Bengals.
Africa Cup of Nations
Cameroon 2019 qualification
Zverev humbled after winning 'biggest title' of his career
Alexander Zverev says he's thankful to Novak Djokovic after beating the world No. 1 6-4, 6-3 at the ATP Finals to close out the season.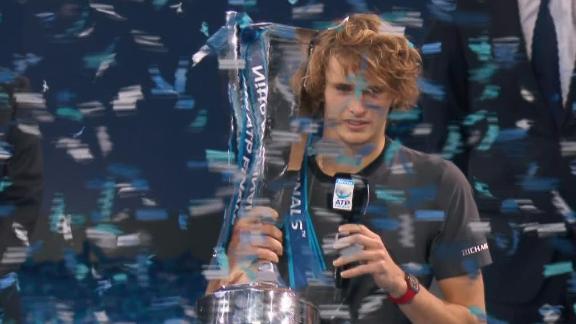 Freak City for ESPN

Deliberate isolation. Petty feuds. Constant turmoil. The Manchester United manager wouldn't have it any other way.
Troy Taormina/USA TODAY Sports

There's no NBA storyline the stars of "High Noon" won't tackle. This season you won't want to look away.
Ranking your NBA team's 2018-19 drama
Eric Heintz

Is there any Stranger Thing than what the Lakers did this summer? Is there anyone Leftover in Cleveland? Did we just turn all 30 NBA teams into TV dramas? Yes ... yes, we did.
Getty

Updated tables from the Premier League, Champions League, La Liga, English Football League and more.

Getty

Keep track of all the important upcoming fixtures in the Premier League, Champions League, La Liga, English Football League and more.

Getty

Results and scores from the Premier League, Champions League, La Liga, English Football League and more.
ESPN Fantasy Soccer promo

Manage your squad in the Premier League, Champions League, La Liga and Liga MX.
Dustin Evans

PSG star Neymar was the muse for the main character of a new comic book series, "Inked," in which tattoos come alive to help fight crime.
Customise ESPN