'Emery has inherited £300k-per-week nightmare'
Craig Burley and Paul Mariner don't hold back on their criticism of Mesut Ozil and question how Unai Emery will handle his involvement in the squad.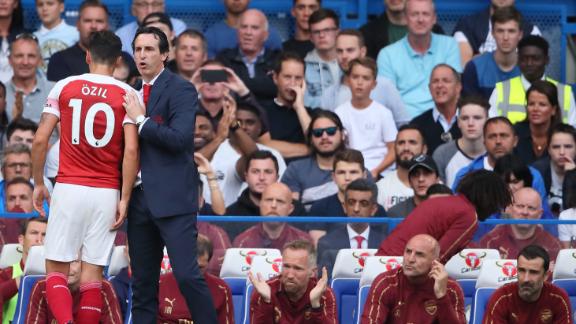 What Chelsea's win over Arsenal revealed about Sarri
Craig Burley explains why Maurizio Sarri may face a difficult decision in Chelsea's midfield as the FC crew discuss the Blues' win over Arsenal.
Chelsea 3-2 Arsenal: Alonso seals derby win
Marcos Alonso scored the winner for Chelsea in a back-and-forth London derby against Arsenal, who paid the price for their missed chances.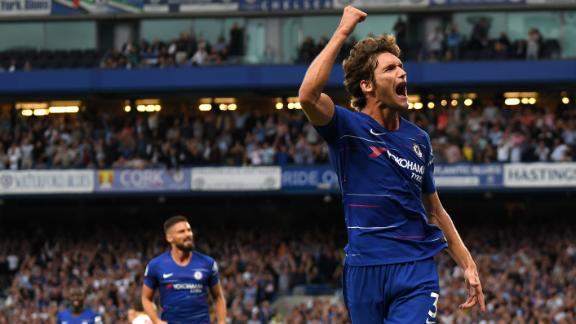 Burley: Same old, same old for Arsenal
ESPN FC's Craig Burley breaks down the defensive struggles that plagued both Chelsea and Arsenal in a game littered with goals.
Alonso restores Chelsea's lead
English Premier League: Marcos Alonso (81') Chelsea 3-2 Arsenal
Iwobi brings Arsenal level
English Premier League: Alex Iwobi (41') Chelsea 2-2 Arsenal
Mkhitaryan gets the Gunners on the board
English Premier League: Henrikh Mkhitaryan (37') Chelsea 2-1 Arsenal
Morata puts Chelsea up 2-0
English Premier League: Alvaro Morata (20') Chelsea 2-0 Arsenal
Pedro scores first for Chelsea
English Premier League: Pedro (9') Chelsea 1-0 Arsenal
Kellerman would let go of Green before Thompson
Max Kellerman thinks Draymond Green is less of a priority to keep on the Warriors than Klay Thompson.
Love knew LeBron's decision was between Lakers and Cavs
Kevin Love understands LeBron James leaving Cleveland for Los Angeles to begin a new chapter.
Embiid flies to Foxborough for Eagles' preseason game
Joel Embiid gets a helicopter ride to New England to take in Philadelphia's preseason game.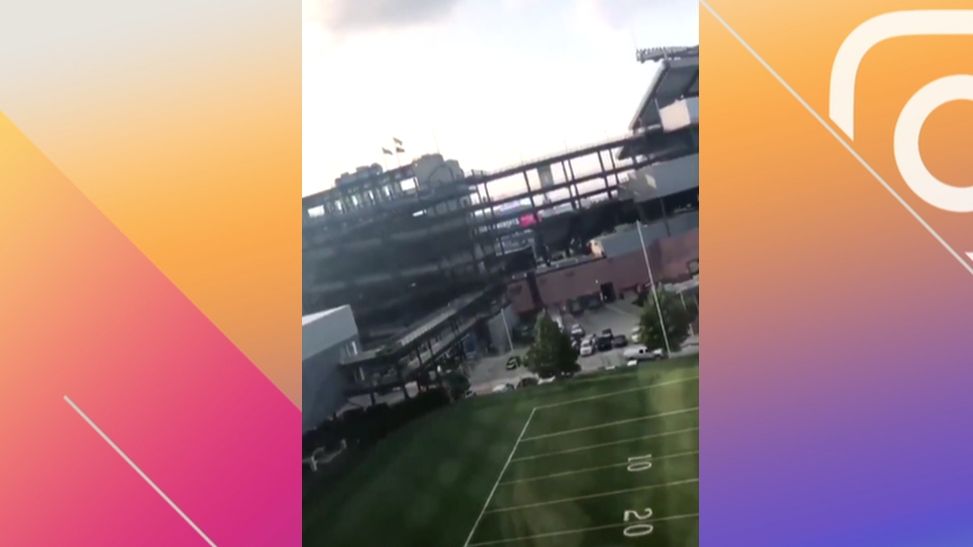 Is LeBron the greatest player of all time?
The SportsNation crew debates if LeBron James has surpassed Michael Jordan as the best player ever.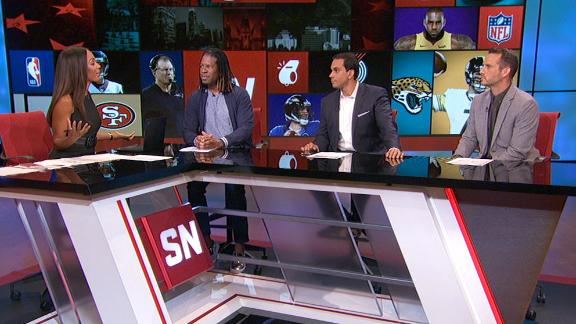 Chievo 2-3 Juventus: Ronaldo's debut a dramatic win
Juventus trailed early in the second half of Cristiano Ronaldo's Serie A debut, but the Bianconeri fought back to earn a late win at Chievo Verona.
Is there a siege mentality to shut down Ronaldo & Juventus?
The FC guys delve into the theory Serie A clubs are out to prove they can do what other leagues could not; slow down Cristiano Ronaldo.
Horncastle: Juventus have a superiority complex
FC's James Horncastle discusses whether or not Cristiano Ronaldo's first game at Juventus lived up to all the hype.
Burley: The goals will come for Ronaldo at Juventus
FC's Craig Burley compliments Juventus' depth and Cristiano Ronaldo's link-up play despite not scoring in his Serie A debut.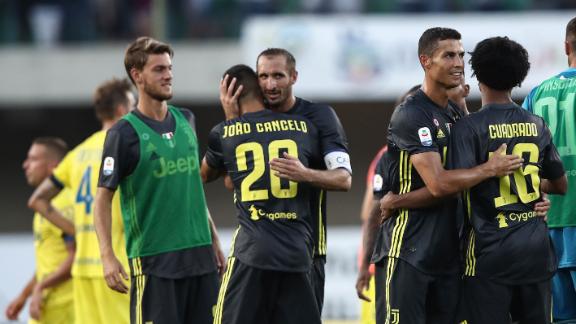 Ronaldo denied a scoring debut for Juventus
The Cristiano Ronaldo era at Juventus begins with a dramatic last-gasp winner from Federico Bernardeschi.
Bernardeschi's dramatic late winner for Juventus
Italian Serie A: Federico Bernardeschi (90'+3) Chievo 2-3 Juventus
Juventus levels on own goal
Leonardo Bonucci thought he got credit for the game-tying goal vs. Chievo in the 75th minute but it was deemed an own goal.
Giaccherini's penalty kick puts Chievo in front
Italian Serie A: Emanuele Giaccherini (56') Chievo 2-1 Juventus
Stepinski heads Chievo level with Juventus
Italian Serie A: Mariusz Stepinski (38') Chievo 1-1 Juventus
#PoliteEnquiries: How long before Rashid is Kohli's bunny?
George Dobell and Melinda Farrell answer your questions on Rashid, reviews and the unfortunate signs of ageing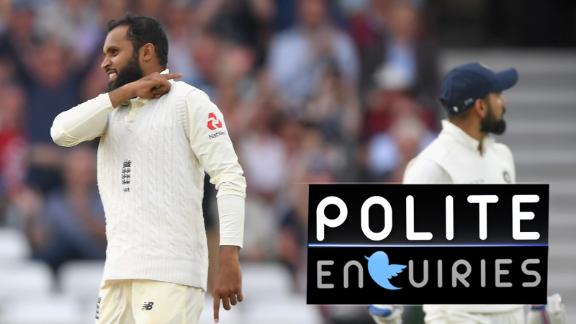 Disciplined openers key to India's performance - Bangar
India batting coach Sanjay Bangar praises Shikhar Dhawan and KL Rahul for setting a solid platform for the rest of the line-up to capitalise on
India left the ball better than they have done - Woakes
England allrounder Chris Woakes admits that despite the movement on offer, England struggled to create chances against the patient Indian batting line-up at Trent Bridge
Chopra: Kohli's 97 may turn out to be more valuable than a hundred
Aakash Chopra praises a 'commanding and dominating' innings from the India captain
Harmison: India would be the happier team at stumps
Steve Harmison praises India's patient approach with the bat on the first day at Trent Bridge
Football Talking Points
Extra Time: Mkhitaryan as No. 10? Classless Man City?
The guys respond to your tweets about Mkhitaryan's role with Arsenal, Jorginho's performance, Sokratis, Unai Emery and the Man City documentary.
FC's La Liga predictions: Costa over Messi for top player?
Craig Burley and Paul Mariner make their predictions for the La Liga season, and one of them is backing Diego Costa for a big season.
ESPN FC's Serie A predictions: Can Milan finish top 4?
Craig Burley explains why he backs Milan for a top-four finish for the first time since 2013 as the FC crew reveal their Serie A season predictions.
Premier League: Trouble at West Ham, Chelsea win frantic derby
Craig Burley runs through the talking points from each of Saturday's Premier League matches, including Chelsea's win over Arsenal.
Must Reads
Hey, did you see that?
Nun dazzles with first-pitch curveball
Sister Mary Jo throws out the first pitch at the White Sox game, spinning a 12-to-6 curveball.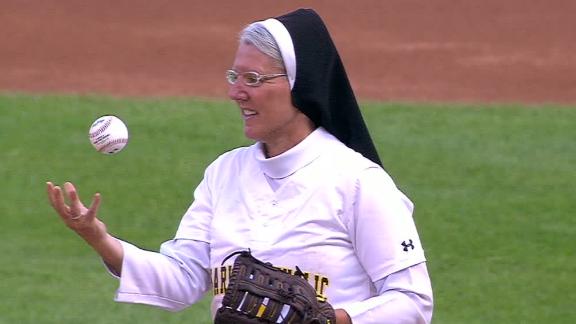 Travis Scott homers off James Harden
Rapper Travis Scott is hyped up after he sends a pitch from the 2018 NBA MVP to Astroworld in a celebrity softball game.
Bolt arrives in Sydney
Usain Bolt has touched down in Sydney ahead of his trial with the Central Coast Mariners.
Kwese TV

There's live sports aplenty on Kwesé TV. Click here to see what you can watch across our various channels.
Tony McArdle/Everton FC via Getty Images

The Premier League transfer window is over for the summer. But who came out on top on Deadline Day? And who will be wishing they had done a bit more?

Photo by Wolverhampton Wanderers FC/Getty Images

With the buying season over for clubs in England, ESPN FC's Nick Miller grades how each Premier League team fared in the summer window.
Supplied

Get all the latest news, features, stats and standings on our dedicated NBA Africa site!
Peter Hapak

Zlatan Ibrahimovic is but one of the global sports stars who have bared all, including their soul, to feature in ESPN The Magazine's Body Issue 2018, the 10th edition of the iconic publication.
Logo

Check out Kwesé latest eSports site - KweséGamer!
Customise ESPN