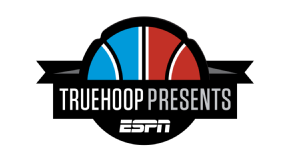 THERE'S A GIANT BLUE BEAR HEAD -- the Memphis Grizzlies' logo -- painted around the midcourt circle on the floor of the FedEx Forum. In a game in December, 7-foot-1 center Marc Gasol catches a pass about one step from the bear's chin, in the no-man's land between the 3-point line and half-court. Amusingly, he raises the ball up, wrist cocked, as if to shoot.
Gasol is in his ninth NBA season. In his first eight combined, he made a dozen 3-pointers. His bread was buttered oh so far away, in and around the paint under the rim. There's a saying in basketball, "mouse in the house," for when a tiny player is under the hoop. This is the opposite (whale in space?). Understandably, his defender, Trail Blazers center Meyers Leonard, splits the difference between where Gasol has the ball and reality: He's standing back inside the 3-point line, hands by his sides, saving his defense for when his man reaches normal scoring position.
Gasol stops, brings the ball back down to his waist. Then (was there almost a shrug?) he brings it back up, wrist cocked, ball passing in front of his face, bent knees straightening, eyes locked on rim ... every sign of an actual launch sequence. Oh, yes. We're doing this. Leonard wrestles to believe and lazily shuffles into a half-hearted closeout as the ball swishes perfectly through the net. A 7-footer not known for shooting from distance will be credited with a 28-footer.
There is every reason to crack up. But Grizzlies first-year coach David Fizdale stands stoic, hands on hips throughout. What he's watching is not any kind of joke. It was the skeleton key of Fizdale's offensive strategy, a focal point of the job interview that got him hired, a permanent transformation to Gasol's game, "the evolution of basketball" in the words of one of his assistants and a reason for a sliver of hope for Memphis in the first round against the heavily-favored Spurs.
"Marc's light," says Fizdale with maximum seriousness, "is very green."
---
FORTY-TWO-YEAR-OLD DAVID FIZDALE got his first NBA job in 2003, spending a season with the Warriors before joining the Hawks and then the Heat, where he was for eight years as Erik Spoelstra's highly regarded assistant. As the Heat rolled off titles in the era of LeBron James, Dwyane Wade and Chris Bosh, Fizdale's name consistently popped up on head coaching candidate lists.
But last spring presented a special opportunity. The Grizzlies and Dave Joerger were no more, and here was a beloved team with stars in place, seeking new ideas. About 10 minutes into his first of many interviews to get the Grizzlies' coaching job, Fizdale unleashed his big plan to make Gasol, middle-aged in NBA years and coming off a major foot surgery in February, better than ever. Fizdale cited Chris Bosh as an example of a big man who succeeded after stretching his range later in his career, much to the benefit of his teammates. He used a whiteboard to show the X's and O's of how the Grizzlies could borrow liberally from the plays Cleveland Cavaliers coach Tyronn Lue uses to get Kevin Love and Channing Frye open 3s, while also drawing big defenders out of the paint, helping James and Kyrie Irving attack the rim.
The Grizzlies' executives responded with knowing nods. This very idea had intrigued the Memphis front office for years. One executive joked that Gasol's not shooting 3s ranked "37th on the list" of friction points between Joerger and the front office.
And they hired Fizdale.
NOT LONG AFTER GETTING THE JOB in May, Fizdale sat down with Gasol, who was headed back to Spain for the offseason, and told him he should plan on attempting at least four 3-pointers a game.
Gasol chuckled. Ridiculous! Surely his new coach was exaggerating for effect, considering Gasol had attempted a grand total of three over the 52 games he'd played the previous season.
"It wasn't my job. It's really that simple," said Gasol, a longtime master of the midrange. "It wasn't my job to shoot 3s."
Fizdale laughed a little, too. It's not that he found it funny. It was just his natural reaction, to ease the awkwardness of asking an All-Star to drastically alter his game.
"I'm serious," Fizdale then told Gasol.
---
GASOL LEFT THAT MEETING with a mission: Get comfortable shooting 3s.
Which is different from learning to shoot 3s. Everyone associated with the Grizzlies franchise knew he could stroke 3s -- he did it in practice all the time. Memphis fans got a glimpse when Gasol won the 3-point contest during the team's preseason open practice in 2015 at FedEx Forum.
"Honestly, I've always said that he's been our best shooter on our team," power forward Zach Randolph says. "I was serious."
"We all knew he could shoot it like this," says point guard Mike Conley. "He just never did. It wasn't in the game plan, per se."
But it's one thing to catch and shoot with no defense (other than Conley yapping playful trash talk). It's another to learn the footwork and on-court orchestration to find those shots in game situations. From the pick-and-roll Gasol knew so well, it's typically only one extra step to get out to the 3-point line, instead of popping to his comfort zone in the mid-range, but it's a completely different routine. He also had to train himself to hunt for 3s as he trailed his faster teammates up the court on the break.
Then there's the matter of feeling like a diva.
Gasol prides himself on being a lunch-pail player in a lunch-pail town, a dominant team defender and one of the league's best passing big men. Selfless and gritty. Letting it fly, "all eyes on me," from long range felt funny.
Fizdale stressed how much Gasol's teammates would benefit from the space created by drawing his defender away from the rim. As a center, Gasol tends to be guarded by rim protecting, paint-clogging, cutter-bumping 7-footers who make, statistically, the most effective defenders in the league. Getting those guys out of the paint would screw up the other team's whole scheme. The "stretch 4" -- power forwards shooting from long range -- have come to the NBA in a major way. Gasol was part of the next wave, the stretch 5s, a trend Grizzlies assistant J.B. Bickerstaff calls "the evolution of basketball." Five NBA 7-footers hit at least 100 3s this season, among them Gasol is the most accurate.
"It was about the residual effect on his teammates -- how much it helps Tony Allen float around and do what he does in the paint, how much it helps Z-Bo on his post touches, how much it helps Mike Conley get into the paint and make plays for our team," Fizdale says. "That was the biggest part of it, really trying to see how in a selfish way he's being totally unselfish by adding the 3-point shot to his game."
Gasol returned from Spain with lingering doubts. After completing foot surgery rehab, then spending time in the gym, the footwork didn't feel so foreign anymore, but the diva issue was real, and Fizdale wouldn't be the guy to convince him this plan wasn't selfish.
"It wasn't my job. It's really that simple. It wasn't my job to shoot 3s."

Marc Gasol
Gasol returned to Memphis in late August for informal pickup games in the FedEx Forum practice gym, Gasol tried out his new game. One swish, then another. Sweating in his Grizzlies practice gear, he heard his Core Four compadres, Allen, Randolph and Conley, howl in delight when he drilled 3s. He heard them bark when he didn't let it fly, often in colorful terms from Allen and Randolph.
"I saw that they believed in it and how they liked it," Gasol says. "They believed in it, and I was comfortable with it."
---
TWO WEEKS INTO THE REGULAR SEASON, the Grizzlies trailed the Clippers by a point in the closing seconds of a game at Staples Center. The Grizzlies' point guard, Conley, crossed over J.J. Redick, found a seam and drove full-speed for the rim with the ball in his left hand and the game on the line.
Waiting for him was DeAndre Jordan, nimble and athletic despite being 6-foot-11, 265 pounds -- one of the best rim protectors in the league. Every instinct in Jordan's body, from a lifetime as a hooping big man, drew him into the paint to stop Conley.
But he also knew -- this was new -- that his man, Gasol, was 20 feet away in the corner.
"I'm thinking, OK, me being a help defensive guy, my first thought is to help when I see somebody who is beat or has the potential to get beat," Jordan remembers. "So I helped over too much."
Conley drove deep enough to suck Jordan into his orbit, then (surprise!) kicked the ball to Gasol in the corner. Jordan might cover a lot of ground quickly, but he had no chance. Seconds later, Gasol was celebrating his game-winner -- and fourth made 3 of the night -- by imitating MMA fighter Conor McGregor's billionaire strut, leaving Jordan to wonder what he could have done to defend the play.
"I thought, 'OK, even if he does kick it out to Marc, I'll have time to get out there,' and he got it off so quick," Jordan says. "I had a great contest on it, but he's 7-1, you know what I mean?"
If Gasol had any lingering doubts about himself as a long-range threat, they ended that night.
---
NO TEAM WANTED to face the 61-21 San Antonio Spurs in the first round, but even after a bad loss in Game 1, the Grizzlies have some reason for hope. They beat the Spurs twice at home this season and went to overtime on the road. They also handed San Antonio one of the signature failures of the Tim Duncan era, eliminating them in the first round in 2011.
Gasol fell a tad short of Fizdale's goal, attempting 3.6 3s per game this season. But this time, as Marc faces his brother Pau (who led the league in 3-point percentage this season and has long been seen as the flashier Gasol), the Grizzlies have a new way to put opposing defenses under stress. Marc made 39 percent of his 3s and is now the NBA's second-most-effective center on offense, according to real plus-minus, which, among other things, captures the impact his play has in making his teammates more effective. Last year, he was 25th.
He's scoring more, too -- 19.5 points per game, by far the best of his career.
"There's so many bigs who are shooting the ball -- trail 3s, catching the ball up top -- so you've got to be able to guard them down low, mid-post and then all the way out to 3," Jordan says. "But a guy like Marc, he can take you anywhere."
And to get to him far from the hoop while also protecting the paint means moving.
"It's a hell of a recovery, man, to get there," Jordan says. "He's putting a lot of pressure on defenses, for sure."
The 3-pointer has also unleashed Gasol's inner point guard. He's a plodder, but his first step is plenty quick enough to blow by big men, who are forced to sprint full speed to close out on him, allowing him to create off the dribble to the tune of a career-high 4.6 assists per game.
"You're running so fast at him, he just shows you that shot-fake and puts it down and now he's in the lane making plays," Fizdale says. "I think that's where people are seeing a whole new world for Marc. It's not just his 3-ball going in, but you're seeing a game where he's actually playing off the dribble and making plays for his teammates and for himself. Yeah, he could pass before, but there was not a lot of stuff where he was dealing with guys closing out on him."
His 3s quickly stopped seeming gimmicky. Only Russell Westbrook, Oklahoma City's MVP candidate and one-man clutch offensive machine, made more of them in the clutch (when trailing or tied by three points or fewer in the final 30 seconds of regulation). Gasol shot 47 percent from deep in Grizzlies wins and 28.6 percent in losses. In Game 1, Gasol made all three of the 3s he attempted. The Grizzlies came into the game 12-3 in games in which Gasol hits three or more 3s.
Rockets coach Mike D'Antoni has been a pioneer of using sweet-shooting big men.
"The only question to me is why did he wait so long?" D'Antoni wonders.
"I still think he can get up more," Fizdale says. "As crazy as it sounds, I think he passes up a couple a game that I would love to see him just let go. He's that good a shooter. And contested for him is different than contested for a guard. He's 7-1, so a lot of times those aren't really contested shots."
"I told him I envy his position," Conley says. "He has a very easy way of getting his 3-pointers. He can just be trailing in [while the Grizzlies are] bringing the ball up the court, and a big normally runs straight to the paint. He stops at the 3-point line, and it's a wide-open shot. Most guards and wings, you've got somebody on you at half court.
"I told him life is good for him and continue shooting that thing."