Serie A Predictor: The season begins!
ESPN FC's Mark Donaldson and Shaka Hislop square off in predicting the most notable matches to kick-start the 2018/19 Serie A campaign.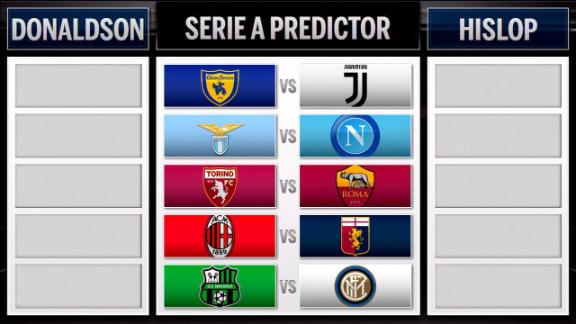 Watch Serie A on ESPN
Watch Cristiano Ronaldo and the stars of Serie A all season long, with every match from the Italian top flight available on ESPN and ESPN+.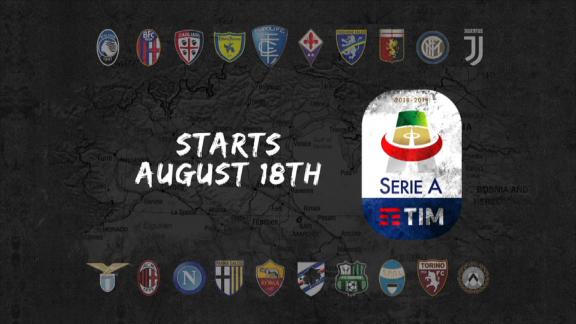 Can Ronaldo do for Juventus what he did for Real Madrid?
On the eve of Cristiano Ronaldo's debut for Juventus, Mina Rzouki and Gab Marcotti discuss their expectations for him and how he will be deployed.
How Cristiano Ronaldo affects the Juventus XI
James Horncastle breaks down what he expects the Juventus XI will look like at Chievo after Max Allegri confirmed Cristiano Ronaldo will start.
Allegri: Ronaldo's already shown us extraordinary things
Massimiliano Allegri revealed new signing Cristiano Ronaldo has already impressed in training ahead of their Serie A opener against Chievo.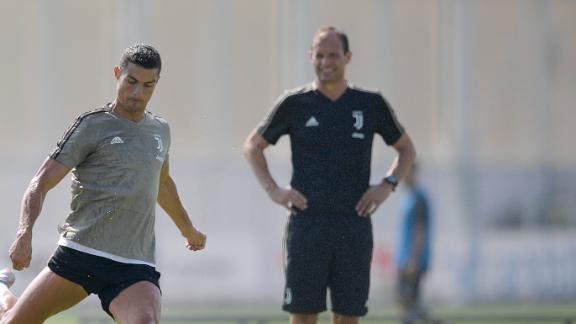 Horncastle: Ronaldo ready to spearhead Juve attack
FC's James Horncastle is in Turin to report on the news Cristiano Ronaldo will start in Juventus' opener and Claudio Marchisio has left the club after 25 years.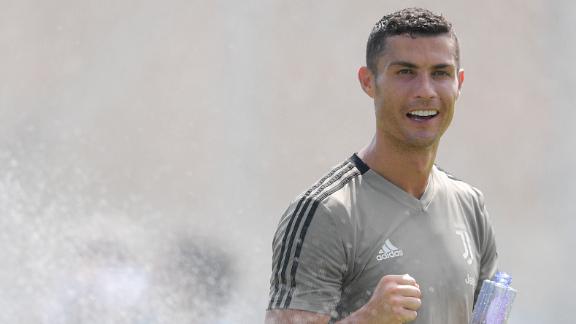 Ronaldo-mania hits Juventus
Cristiano Ronaldo makes his debut for Juventus against Chievo Verona on Saturday. Get hyped.
How will Ronaldo and Juventus line up vs. Chievo?
Stewart Robson reveals his projected Juventus XI as Cristiano Ronaldo gets set to make his Serie A debut against Chievo.

Top Headlines
Can Aubameyang and Lacazette coexist on the pitch?
The FC crew discuss how important the relationship between Aubameyang and Lacazette is for Arsenal and how Unai Emery can utilise both forwards.
Emery coy on whether Cech will start against Chelsea
Arsenal's Unai Emery insists that he has confidence in both Bernd Leno and Petr Cech and their abilities to play out from the back but wouldn't be drawn on who will play against Chelsea.
Drummond blocks camper's shot with his head
Andre Drummond dominates campers with several blocked shots, followed by a crossover that sets up a jam.
Embiid flies to Foxborough for Eagles' preseason game
Joel Embiid gets a helicopter ride to New England to take in Philadelphia's preseason game.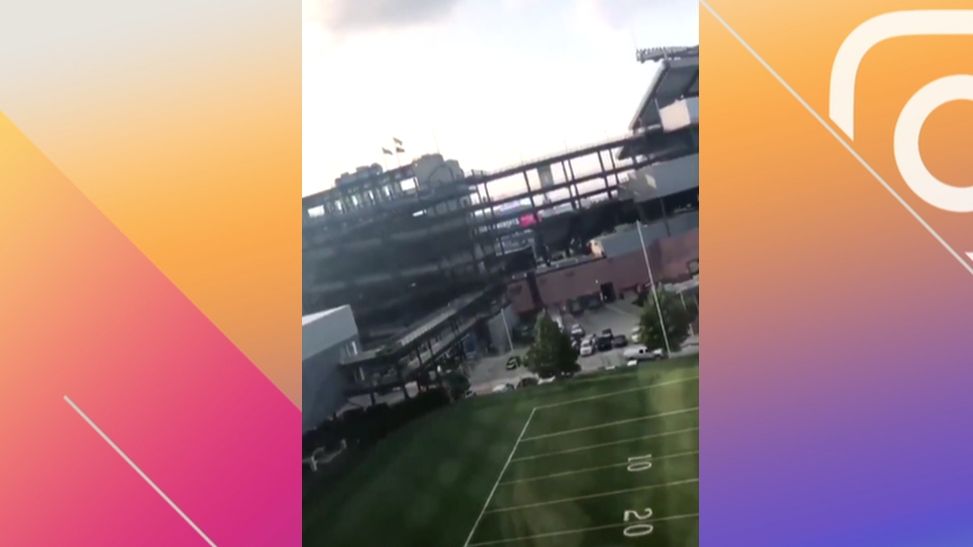 Love knew LeBron's decision was between Lakers and Cavs
Kevin Love understands LeBron James leaving Cleveland for Los Angeles to begin a new chapter.
Stephen A.: McCollum is 'a frustrated individual'
Stephen A. Smith understands CJ McCollum's frustrations with NBA superteams.
Simmons: I knew LeBron already picked the Lakers
76ers point-guard Ben Simmons spoke at the unveiling of his NBA 2K19 Australia cover.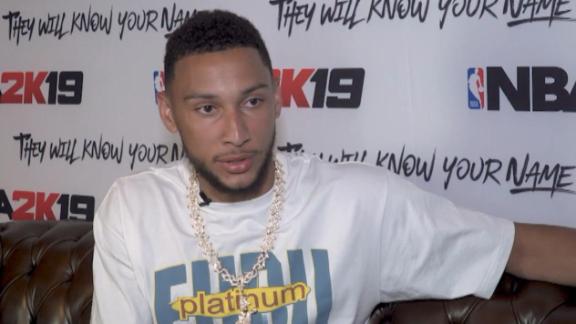 'I got four, but should have got six or seven'
Stuart Broad speaks to ESPNcricinfo about his destructive spell at Lord's and discusses finding some of best form after a difficult 2017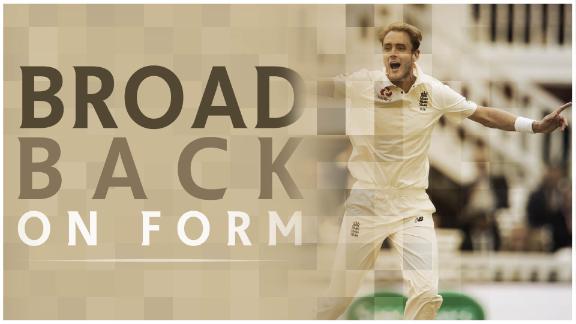 Agarkar picks his XI for third Test
Does M Vijay get another go? And does Hardik Pandya still fit into the plans?
India make final Trent Bridge preparations
Rishabh Pant and Jasprit Bumrah were in focus with the visitors 0-2 down in the series against England
Root explains tough Stokes-Curran swap
The England captain says the decision to leave Curran out has been one of his most difficult as a captain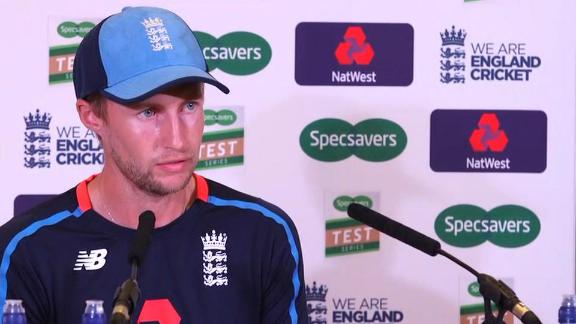 Kohli excited by Bumrah's return to fitness
India's captain Virat Kohli said the team selection depended on the nature of the pitch and that he was pleased with the return of Jasprit Bumrah from injury
Chopra: 'India need an extra batsman to address their batting crisis'
Aakash Chopra picks Karun Nair ahead of Hardik Pandya, and brings in Rishabh Pant as wicketkeeeper
Guardiola: De Bruyne's absence will be a big miss
Man City manager Pep Guardiola confirms Kevin De Bruyne will be out for three months after sustaining a knee injury in training.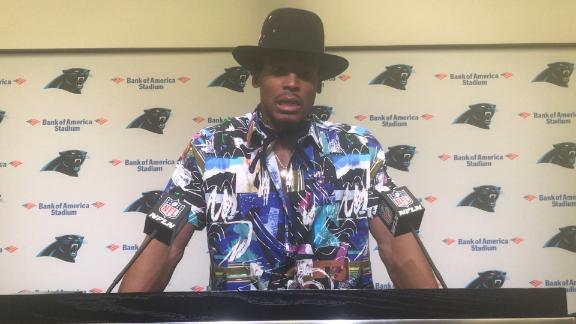 Cam Newton said he could have been better even though he compete 75 percent of his passes against Miami. Said he left ''some meat on the bone.'' But Newton couldn't have been better on his final attempt, a 27-yard touchdown to rookie tight end Ian Thomas. As Newton noted, it will help him sleep better.
Customise ESPN
Jack Perkins

For the third time in his career, LeBron James is changing teams. Here's everything you need to know about his decision to join the Lakers.
Measuring Golden State's greatness
Nathaniel S. Butler/NBAE/Getty Images

1996 Bulls, 2001 Lakers, 1986 Celtics. Kevin Pelton ranks the greatest NBA teams of all time. Where did this year's Warriors land?
Dave Flanagan

The world's top soccer players, ranked by position.
Eric Hartline/USA TODAY Sports

The Eagles are obvious picks in the NFC East, but who else will take division crowns? NFL Nation has full breakdowns of all eight.

It's not too late to play!
Sonia Canada/Getty Images

"Wonder Boy" is heading to the NBA, and he's out to change how we think about European imports.