England may have to "play on the egos" of Australia's batsmen if they are going to win the Ashes, and Stuart Broad feels he is just the man to do so.
While Broad has produced several series-defining Ashes spells in England, his memories of Australia are less positive. He was forced home after injuring himself in the second Test of the 2010-11 series and, despite bowling well in 2013-14, when he claimed 21 wickets at a cost of 27.52 apiece, he was part of the side whitewashed 5-0.
But while Broad admits he bowled "like a drain" in the warm-up game in Perth, he feels he has the game to succeed in Australia and insists "my time is coming".
England accept they do not have the weapons "to blast" Australia out. But what they - and certainly Broad and James Anderson - can do is bowl tight for long periods of time and test the patience of Australia's batsman.
"We have to look at what we do best as a group," Broad said. "We're not going to blast the Australians out. We don't have a Brett Lee-type bowler who can bowl 95mph reverse-swinging yorkers. We're not going to blast Australia out like Andrew Flintoff and Steve Harmison did in 2005.
"We have to do what we do. We have to adjust our lengths a bit - if you bowl that slightly fuller length, you get belted, as we found out at the WACA the other day - set slightly more defensive fields and bang out a length more often than not like Glenn McGrath used to. You have to bowl a heavy length here to be threatening.
"I don't know if playing on egos is the right way to say it, but if you can cut off a few of their boundaries then you have more chance of them making a mistake. I don't want to sound as if this is a negative plan because, although it always looks great to have five slips and a gully, is that playing to our strengths on these pitches?
"We had a theory in 2015-16 in South Africa that when a new batsman came in, we'd swarm them for the first 15 balls or so. That way, if they make any mistake, they are out. And if they score 20 off 15 balls, you can always drag it back.
"I'd like to do a similar thing again. If any world-class batsman is going to make a mistake, it is going to be in the first 20 minutes. If they drive you through the covers three times, it doesn't matter but then settle into a more defensive field."
It is a methodology endorsed by the England coach. Trevor Bayliss, who worked with several of the Australian team during his period with New South Wales and Sydney Sixers, agrees that, if they are frustrated, they can be lured into loose strokes.
"The Australian players like to play their shots," Bayliss said. "That's the way they've played for a number of years.
"Any team where the batters play shots, especially if there's not much in the wicket, you have to try and keep things tight, frustrate them and try and make them go after the wrong ball. The Australian wickets are flatter than a lot of other wickets around the world. That could be part of our line of attack."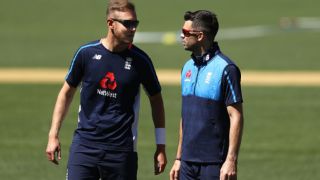 While attrition might prove to be a feature of England's attack, Broad still hopes he has a match-winning spell or two within him. Indeed, he feels he might have had one during the English season but was let down by some dropped catches.
"I think I do have a match-winning spell in me, yes," he said. "Luck probably wasn't with me during the summer. I know that if I get wickets in the first two or three overs of a spell, the likelihood of me picking up three or four is quite high. It was just one of those summers that catches seemed to go down so I never got into one of those spells. We know we have to take our catches to win here so there's a lot of work going into that.
"I feel like I'm ready for one of those spells again. I've done a lot of work over the last eight weeks and straightened my run-up a huge amount to get my seam and fingers right behind the ball for the bounce. I don't want to swing it, it will be against my strengths to come here and bowl a full length looking to swing the Kookaburra. I want to do what McGrath and Josh Hazlewood do: bash away and bring in both sides of the bat. I've done some good work. I feel like my time is coming."
Broad has braced himself for a hostile reception from Australian crowds, though. He took some fearful abuse in 2013-14, with the papers referring to him as "Stuart Fraud" - and one refusing to show anything but a silhouette of him - and tens of thousands of spectators, in Brisbane in particular, chanting "Broad is a w***er" whenever he was involved in play. And quite often when he wasn't.
"I'm building myself up for it," he said. "I think I might miss it a little bit if nobody said anything. You're better off getting jeered than nothing. At least if you're jeered, someone has heard of you or you've done something in an Ashes series.
"I read Sir Alex Ferguson's book the last time I was here and he said that United fans used to give Patrick Vieira a lot of stick because they felt threatened by him. I took it that way because it was better for my mindset. Whether the Australians actually thought that, you'd have to ask them.
"It feels different already on this trip. The day after we arrived I walked down to breakfast and there was a picture on the back page of the paper with me having a selfie with an England fan. So actually seeing my face in a paper over here was a new experience. The last time I was 'Stuart Fraud'. So they are spelling my name right, we're already on to a winner.
"But yes, if you're an England cricketer in Australia, you have to prepare yourself for a bit. Everyone has to brace themselves for it. It is a great part of the rivalry. The stick Mitchell Johnson got at Edgbaston was pretty lively. Maybe not as abusive, but quite lively.
"It's as close as we get to being a Premier League footballer playing away from home. It's like being a Manchester United player at Anfield. It's exciting. It's a great feeling. It's not something you're going to get when you retire. You have to remember running out on a sports field with thousands of people jeering and cheering, because those moments don't last forever."