Digital video by ESPN Mexico producer Tlatoani Carrera and camera by Israel Flores. Read the Spanish-language version of this story here.
TOLUCA, Mexico -- The sun crept over the dormant Nevado de Toluca volcano, slowly spilling over into the park, over the futbol fields and the small amphitheater. It was a brisk August morning, but the athletes gathered were prepared in their track suits and gloves.
A small group of runners go about their stretching, in preparation for the final practice run before the Mexico City Marathon on Aug. 27. As others appear, a chorus of hola or buenos días greet them. Even a Swahili hujambo.
Once ready, they jet out together, on the command to keep proper training form.
"High knees! High knees! High knees!"
A lone runner chose to stay behind and looked on, hands in his pockets, as the group rounded a bend, exhaling puffs of cold air. Then they ducked behind the trees, temporarily out of his sight line. Unlike the rest, he will not be running in Sunday's marathon.
Despite the innate competitiveness, there is a sense of community within the group. Most mornings, runners of differing prowess congregate on Toluca's Parque Alameda 2000 to train, prepare for races and exchange advice, gossip and jokes in a mix of Swahili, English and Spanish.
'Toluca is a lot like Nairobi'
Hezron Otwori Nyandusi's residence sits on the right side of a six-apartment complex, a tiny two-bedroom place where he, his wife and two of his three children call home.
Space is limited, and a living room couch doubles up as a dining room. Amidst the clutter, several dozen medals, trophies and plaques adorn a small, vintage television set.
A 40-year-old distance runner hailing from Kenya, Nyandusi has called the central Mexican city of Toluca home since 2003. Having competed in races ranging from 10Ks to marathons since the mid-1990s, Nyandusi won races from Mexico and the United States to Macao. He has not been able to compete since 2015. Not since a serious accident.
Several hundred Kenyan expatriates live in Mexico, with the largest community situated in Toluca, a 40-mile drive from Mexico City. A 2009 Mexican government report listed 101 of Kenyans in the country, a number that has grown steadily due to the opportunities for race athletes.
"I personally know more than 100 people living here, the community is strong" said Evanson Moffat, a Kenyan businessman and sporting event organizer who has lived in Mexico for the past 17 years. "Toluca is a lot like Nairobi. This is why all the runners want to be here, it reminds us of home."
The central Mexican valley is just about 9,500 miles away from Nairobi, Kenya's capital city. With no direct flights linking the two, it can be a 24-hour flight with more than one connection on the European mainland.
Several traits link the cities, despite the distance. Both are flanked by mountains and have rivers running through them, and they possess similar climate patterns, according to the Köppen classification, a system that averages temperature and precipitations worldwide.
Both Toluca and Nairobi sit on elevated plains, with the Mexican city registering at 8,750 above sea level. At 3,000 feet more than the Kenyan capital, Toluca is an ideal spot for high-altitude training, a staple of professional preparation for runners.
Mexico, in particular, has embraced long-distance running following the past successes of its own athletes. German Silva, Andres Espinosa and Dionicio Ceron notched wins in major races during the 1990's. Espinosa and Silva combined to win the New York Marathon consecutively from 1993 to 1995, while Ceron, a native of Toluca, is the only man to win the London Marathon three times in a row, doing so between 1994 and 1996.
The crowded event schedule in Mexico, Moffat says, has attracted many of his countrymen to take up full-time residence in the country. "There are races here every weekend," he said. "So it makes sense that many live here and compete."
The Kenyan domination of long-distance running, including marathons, has been extensively documented. Of the past 30 Boston Marathon men's division winners, 21 have hailed from the east African country.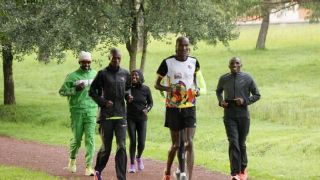 'We live to race and we race to live'
While top races like the ones in Boston, New York and Dubai can net winners six-figure prizes, the significant but more modest sum of nearly $30,000 to this year's winner of the Mexico City Marathon, make most top runners shy away from the race, allowing competitors from lower tiers a better opportunity at earnings.
"We live to race and we race to live," said Simon Kariuki Njoroge. One of the most successful runners to call Toluca home, the 36-year-old Njoroge has won 20 marathons during his career, half of them in Mexico. "The more I win, the more I'm able to travel to more races and keep competing," he said.
Njoroge has never won the Mexico City Marathon, a challenge he relishes. "It's something I want to accomplish for sure," he said. His first crack at the race, in 2013, ended with a second-place finish to Peru's Raúl Pacheco. A year later, he finished fifth while Pacheco linked consecutive wins. "He finished strong both times," Njoroge said.
In the past 20 editions of the race, only six non-Kenyan runners have won the men's edition. Another Kenyan, Anne Jelagat, holds the women's course record stemming from her victory a decade ago.
Those joining Njoroge include past winners of the Mexico City Marathon such as Isaac Kimaiyo Kemboi, the victor in 2011, and Hillary Kimaiyo Kipchirchir, a three-time champion and the race's record holder. The competition is friendly, and the runners playfully chide each other about past events where they didn't do as well as they hoped, or discuss making purchases with their potential winnings.
A victory is celebrated as one for the group in itself, regardless of whether they compete or not. It's not just lip service, either.
"If someone needs help with something, money or what you like, we help each other," said Moffat. It's not uncommon then to find non-runners like Moffat or Christopher Kaloki, a junior high school English teacher, on the track. "Whenever someone asks [from Kenya], I tell them to come. Mexico is good to us, muy bueno" he said. The morning meetings often spill into the rest of the day, ending in meals and joyful social gatherings. "That's why even the non-runners are runners."
Kaloki arrived in the country in 2003, spending a year in the central Mexican city of Puebla before moving to Toluca. He did so because word of mouth about the community of runners reached him, though he has never competed.
"Usually, I'll stick to soccer," Kaloki said, with a laugh. "I've got [the runners] beat there."
Often, the group, led by Kaloki and Moffat, his Mexican wife Veronica, and daughter Kenia (Spanish for Kenya), will get together to watch Toluca's first division futbol team on TV at a restaurant or live, at the Estadio Nemesio Díez.
Sometimes, they'll go out and eat together. Njoroge likes Mexican breakfasts including cecina, a salted meat filet, marinated and usually combined with refried beans. Moffat is partial to barbacoa de puerco, a slow-cooked Mexican pork dish, but many of the runners don't eat pork when training. Instead, they'll end up at Nyandusi's apartment, where his wife will make ugali or chapati, a type of flat bread that looks similar to a flour tortilla.
'I needed to know if my husband was dead or alive'
Hezron doesn't remember the accident.
"I was at the hospital, and I couldn't see out of my left eye," he said. "I couldn't talk either, I was so swollen." He had suffered injuries to his back, hip and legs, as well as deep cuts to his forehead down to his eyelids. For most of three days, he had been in and out of consciousness. On the fourth day, doctors said he was stable enough to be released, and Nyandusi was handed over to a woman who told him she was his wife, though he couldn't remember her.
"I kept asking, 'What happened?'" he said.
On his way to a race in the southeastern Mexican state of Yucatan, Nyandusi boarded a bus along with 39 other passengers on Aug. 29, 2015. Outside of Xpujil, a small town in Campeche state and about four hours away from Nyandusi's intended destination, a semi-trailer truck swerved into wrong way traffic, colliding with the bus and sending it over the side of the road into a shallow embankment, where it stopped only after hitting a tree.
Four people, including a 3-year-old girl, died in the accident, while 34 others, including Nyandusi, were injured. Unconscious, and with authorities unable to find his identification documents in the wreckage, Nyandusi's family and friends in Toluca were in the dark about his status.
"After he didn't check in, I called a friend of his who was at the race," said Penninah Nyaboke Nyandusi, Hezron's wife. "At first he didn't say much, but I knew something was wrong. After a while I just asked him to tell me if my husband was dead or alive, I needed to know."
With monetary help from the Kenyan community in Toluca, Penninah rushed to her husband. Though he had been seriously injured and fully conscious for less than a day, doctors released him from the Xpujil General Hospital to avoid racking up medical costs the family could not afford.
Again, the community pulled through to pay the bills.
Hezron still suffers from migraines and believes his running career may be over, though he clings to the chance he can rebound. It will be two years to the day since the accident when Njoroge and the Kenyan community of Toluca will make the hour-long trip on Sunday to the Mexico City Marathon.
Penninah, a professional runner in her own right, has become the sole breadwinner despite chronic pain in her waist and legs. The thinning earnings necessitated a move into their current living space.
Their nine-year-old son, Ivan, and six-year-old daughter, Lesily, were born in Toluca. Both understand Swahili, but do not speak it, according to their mother. Commands from parents are answered in Spanish. Their eldest daughter, Phanisa, 16, lives in Nairobi with her maternal grandparents and has never been to Mexico. She only speaks Swahili and English, meaning that when the eldest sister calls her younger siblings, the conversation needs to be translated by either mom or dad.
"I miss her so much, every day I want to be with her," Penninah said. She will make her first trip back to Kenya in fourteen years later this year while Hezron sets up the family business: a restaurant/bar combining Mexican and Kenyan cuisine. It is the first of its kind in Toluca and possibly in Mexico, according to him.
When speaking, his speech is sometimes slurred, especially when trying to communicate in Spanish, so he'll often offer sentences in a mix of Spanglish. "El bar, will be on the top floor," he says. "La comida, in the kitchen below."
The hope is the business does well enough that Penninah can retire from competition, too. If all goes well, neither of the Nyandusis will run for a living for the first time in their adult lives.
They are both open to coaching, too – the thought being they can give back to the community and pass on their acumen to the next generation. "There are many good Mexican runners," Penninah said.
Despite the difficulties they've endured and their original motive for immigrating to Mexico all but consummated, the Nyandusi family is steadfast in its resolve to stay.
"I like it here, we have friends and everyone is nice to us. It's a good place to live," Penninah said. "This is home now."
As he waited for the group to complete their lap, Hezron Otwori Nyandusi exchanged many more "buenos días" and "hola" with the runners going by. As is usually the case, the faster runners separated from the group and came around first.
Having whizzed by him, Nyandusi smiled and said something in Swahili to his passing compatriots. "I reminded them I was fast, too."
A few seconds later, he watched as they ducked past the trees once more, out of his sight line.